A couple of weeks ago I picked up a copy of Harmut Esslinger´s new book Design Forward from my old ID class here in Vienna, which was the class Hartmut took over for 5 years and turned upside down and inside out much to the resistance of outdated, stubborn Viennese art-school mind-set.
I had the pleasure and the pain of getting an insight into his way of thinking how design, the world, and economics engage with each other after enjoying my first few semesters with Borek Sipek and his highly philosophical and emotional approach to everyday objects, and after one weary and confusing semester with a demanding and absent Ross Lovegrove.
If we didn´t always see eye-to-eye it probably had more to do with a mixture of messages lost in translation and my post-adolescent independent Will fairing badly in incubated group environments, than that we didn´t share and understand each other´s vision.
In fact, I have a great deal to be thankful for to Hartmut. He is a master of harnessing and harvesting talents, and understood something I was not able to articulate in words - which direction I wanted to make an impact in the world through Design. Through him I learnt to grow that vision and make it 5 times more ambitious in order to really understand just how much of our well-being is impacted through Design strategies; just how much dis-ease can be eradicated through Design interventions; just how far Design can uplift the idea and feeling of poverty by harnessing and applying abstract technologies; just how important Design aesthetics are to enrich our visual and emotional culture.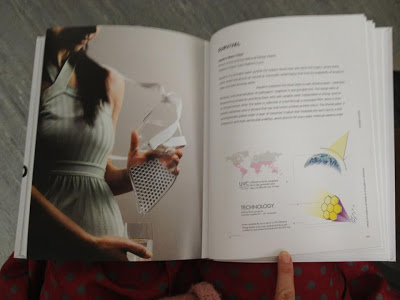 I´m very honored that the AquaIris, my master´s project completed with Hartmut as Professor, is showcased in this book.
The book itself is very pleasant as an object - the layout and the dimensions are easy on the eye and the grip, which is always supportive and imperative in the act of enjoying a good read. The texts themselves are eye-openers, starting with the evaluation and comparative quantification of the appreciation of design in terms of salary and the degree of innovation of a handful of nations, moving onto the importance in a change of education to commodify the creative potential, with a chapter dedicated to the hot topic of frog and Apple´s liaison... I haven´t finished the entire book yet, but I recommend it since the texts are entertaing, engaging and informative. Also lots of pretty pictures dot the pages including, for us Portlandia-loving "dream of the nineties"ones out there, some of our old-time favorite "toys" which reminds us just how much frog shaped the material culture we live in today.
For those of you without the book, here´s a teaser :