I recently stumbled upon Catarina Mota, founder of openmaterials.org.
With an calm and generous speech to a recent TEDtalk audience, she talked about the exciting contemporary state of the open source movement and encouraged us to play our part in it.
Our studio´s always been excited about the direction materials research takes, particularly because it allows the imagination of the designer to run wild with the possible applications. Nowadays it´s so simple to have access to a lot of the emerging technologies, such as conductive ink (we played with it last summer in the studio), that it feels almost like a grown-up playground. Open-source manufacturing and Smart Materials are to grown-ups what Meccano was to us when we were kids.
here are links to two of our favorite playgrounds in Vienna:
FabLabs, as these playgrounds are better know, have gained the interest of even cultural institutions and even manufacturing giants such as the car industry. Last year the MAK - Museum of Applied Arts in Vienna created a one-night FabLab night together with design studio Vandasye: Made4You Non-Stop.
Download a little book of open-source products created for that night, for which we were asked to participate in.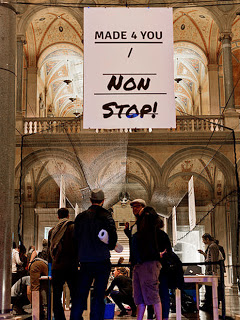 I like open the open source movement, hackers and smart materials. It is an absorbed play and discovery, decentralized and international. It´s about knowing how things work, how things are made, and how to make what you dream, and most importantly sharing that knowledge. Social values lie at the core of the movement.
As a designer, my interests lie in humanizing technologies. As an example: we´ve worked with hackers and their material knowledge to experiment with making man-machine interactions more human-based as opposed to machine based. The result was a dance with lights we called The Committee of Sleep . (We´ll be showcasing a modular version at the Austrian Design Details exhibition this April at the Salone in Milan). Social values lie at the core of the concept.